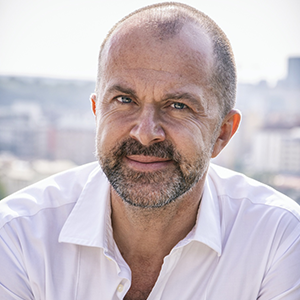 More than just a psychologist…
I was born in Bratislava in 1968 and have lived in the Czech Republic since 1994.
After completing my graduate studies in psychology, I decided that I needed more real-world experience. From my point of view, it was a logical step towards a better understanding of my future clients and myself. I started working in marketing, where I learned the meaning of the words: discipline, efficiency and customer.
Psychology, commerce or alternative?
In my free time, I continued to self-educate. I was determined to focus all my attention on psychology and psychological counselling. The work of a psychologist in an alternative medical facility has been instructive for me in both positive and negative point of view. I realized that nothing might really be as it may seem at first sight. As a result, I do not perceive commercial, alternative and traditional psychotherapeutic approaches as contradictory and at the same time do not make any illusions about them. I felt intensely what it means to "stand with your feet on the ground and have your head in the clouds," and how difficult it is to do so. After this revelation, I returned to the commercial sphere with more humility and with realization that my graduation in psychology really influences my professional path, regardless of what my future job will be.
…psychologist and psychotherapist
After leaving my last job in a big multinational company, I decided to pursue my original profession and open a private psychological practice. This was an exciting opportunity to test my knowledge and skills directly with clients. The practice was a success, but for financial reasons I had to put the business on hold for a while. Only after few months I was able to – after finding suitable solution – continue to work as a full-time psychologist and psychotherapist. Working as a psychologist and psychotherapist is my current full-time job of a self-employed person.
I avoid offering ready-made solutions to achieve a quick but not always very long lasting result. I am convinced that every change needs its own time. That is why I focus on clients´ experience of their unique personality and together we search for the best solution for the difficulties in their lives.
My approach can be called "professional psychotherapy through trust and patience." I trust clients, their own creative abilities, I trust myself, my knowledge and experience and also I trust the process in which clients and me embark on. Patience is a vital part of my set-up, I do not push my clients and I respect the individual pace which is always set by the client.
More information "services" a "contact".
Work Experience:
Comenius University, Psychology, Bratislava, Slovakia
Client-centered Psychotherapy and Counselling, Czech PCA Institute
Regular supervision – PhDr. Vendula Junková
Member of Czech Association for Psychotherapy

Work Experience:
Daily counselling with clients in own private practice
Direct contact with patients in psychological clinic
Experience in researching human behavior
Experience in leading workshops, presentations, and creative lectures
Further Education – Seminars and Workshops:
Caring for carers
Crisis intervention
AMS therapeutic group – Pesso therapy
Male-only groups
Creative impulse & creativity around us
Advanced semiotics
Basics of art therapy techniques
Creative work with children in the Children's Diagnostic Institute and with visually impaired children
Automatic drawing
AURA SOMA color therapy
Mandala painting
Art classes
Evaluating and leading team members
Presentation skills
Negotiation skills